Nursing Labs
Nursing Foundation Lab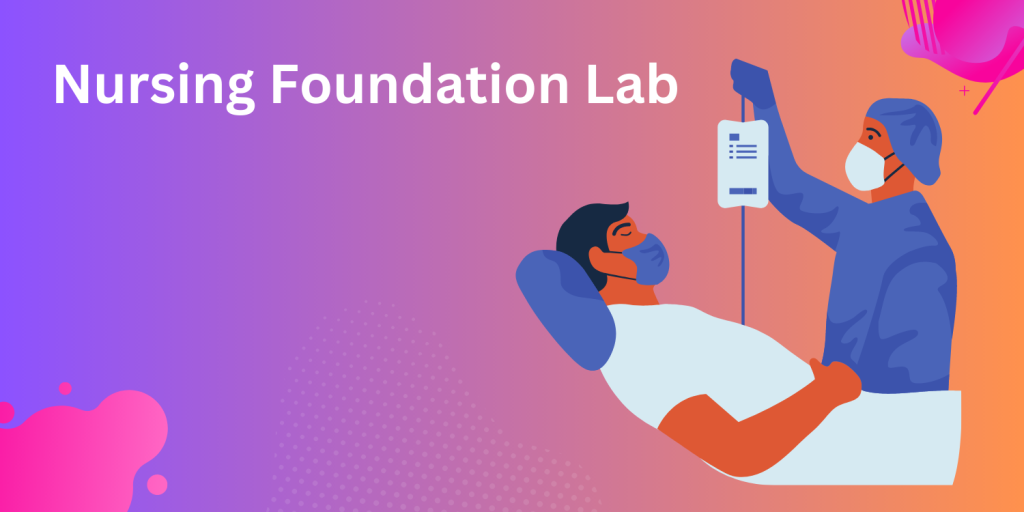 Nursing foundation lab provide hands-on training and practical experience to nursing students to develop their foundational nursing skills. For which we have well equipped lab with 10 beds. Some of the common skills taught in a nursing foundation lab include:
Vital signs measurement: Students learn to measure and interpret vital signs such as blood pressure, heart rate, respiratory rate, and temperature.
Basic wound care: Students learn to assess and care for common wounds, such as lacerations, burns, and pressure ulcers.
Medication administration: Students learn how to safely administer medications, including oral medications, injections, and IV medications.
Patient assessment: Students learn how to conduct a comprehensive patient assessment, including a physical exam and a review of medical history.
Infection control: Students learn about infection control principles, including hand hygiene, isolation precautions, and sterilization techniques.
Basic nursing procedures: Students learn basic nursing procedures such as bed baths, catheterization, and nasogastric tube insertion.
Medical Surgical Nursing Lab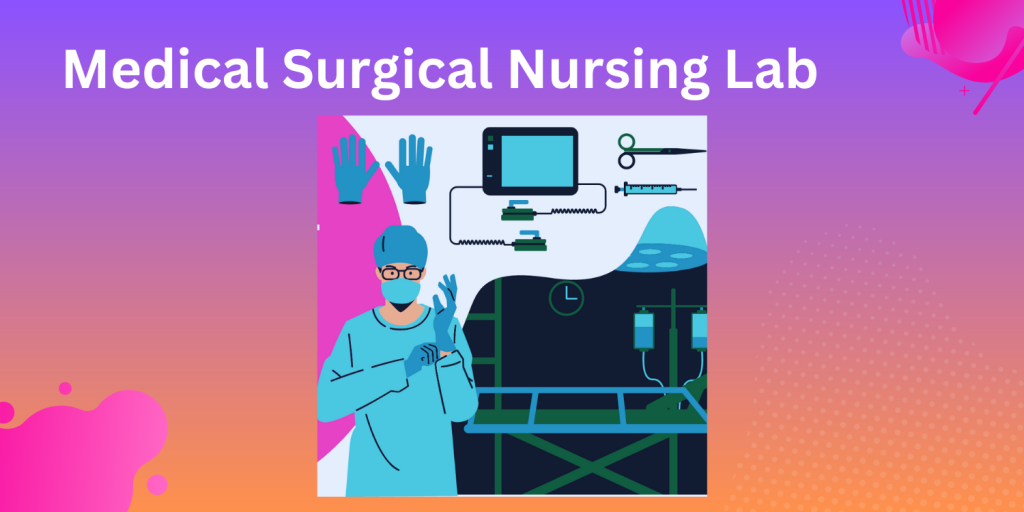 Medical surgical nursing lab provides a variety of learning opportunities for nursing students to develop and enhance their clinical skills and knowledge. Some of the common activities included are:
Simulation exercises: We have simulation equipment that allows students to practice clinical procedures and scenarios in a safe and controlled environment.
Skills training: We offer training sessions for students to learn and practice specific nursing skills such as wound care, medication administration, or IV therapy
Clinical rotations: We partner with healthcare facility prashanthi Hospitals to provide students with clinical rotation opportunities to gain hands-on experience in a hospital setting.
Mock patient scenarios: We create mock patient scenarios for students to practice critical thinking and decision-making skills in a simulated patient care setting.
Anatomy and physiology lab: we also have an anatomy and physiology lab that provide opportunities for students to study the structure and function of the human body.
Midwifery and obstetrical nursing lab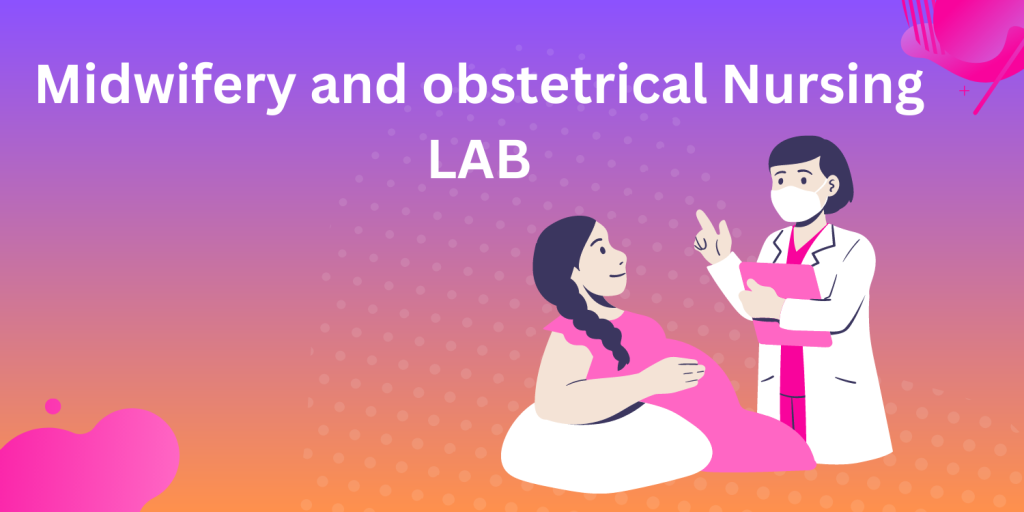 Midwifery and obstetrical nursing lab is a specialized facility where students learn and practice skills related to maternal and newborn care. This lab typically includes equipment and supplies necessary for performing procedures such as prenatal assessments, vaginal examinations, fetal monitoring, and newborn assessments.
Here students learn about the normal physiology of pregnancy, childbirth, and postpartum care. They practice skills such as measuring fundal height, assessing fetal heart tones, and providing comfort measures during labor.
Students learn about medical interventions in childbirth, including cesarean birth, and complications that may arise during pregnancy, labor, and delivery. They practice skills such as administering medication, monitoring vital signs, and providing care for women who have experienced complications.
The goal of the midwifery and obstetrical nursing lab is to prepare students for providing safe and competent care to women and newborns during the perinatal period. Students may also have opportunities to participate in clinical experiences in healthcare.
A Community Health Nursing Lab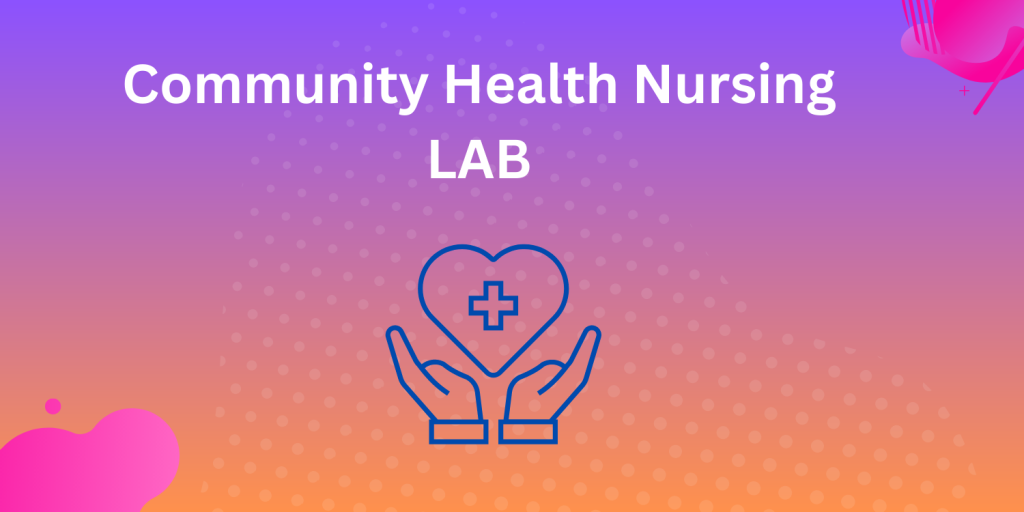 Here nursing students can gain hands-on experience in providing healthcare services to individuals, families, and communities. The lab provides a space for nursing students to practice and develop skills such as health assessment, patient education, and community health promotion.
Simulated patient rooms: These rooms are designed to simulate the environment of a patient's home or community setting. They allow students to practice assessment, communication, and intervention skills in a safe and controlled environment.
Equipment and supplies: Nursing students can access a variety of equipment and supplies necessary for providing care in the community, such as blood pressure cuffs, stethoscopes, and wound care materials.
Health education materials: The lab had a variety of health education materials, such as pamphlets, posters, and videos, were students can use to educate patients and families about various health topics.
Community resources: We provide information on community resources, such as clinics, hospitals, and community organizations, that nursing students can use to help patients access the care they need.
Nutrition lab
Here students learn about the science of nutrition, develop culinary skills, and explore various aspects of food and health. Some of the resources that a nutrition lab may include:
Lab is equipped with various models, posters, flash cards, flip charts for nutrition education.
Lab provides Utensils and Equipment's to practice.
A nutrition lab may have textbooks, reference books, and other educational materials that students can use to learn about the science of nutrition and various aspects of food and health.
Food and ingredient samples help students better understand the flavor, texture, and nutritional content of different foods.
Pre-Clinical Lab
A nursing pre-clinical laboratory is where nursing students can practice their clinical skills and develop their competency before working with real patients in a clinical setting. It is a controlled environment that provides a safe space for students to learn, make mistakes, and receive feedback from their instructors.
Here, students learn how to perform basic nursing procedures, such as administering medications, performing assessments, and providing patient care. They also learn how to use medical equipment and technology commonly used in healthcare settings.
The lab is equipped with simulation mannequins that mimic human physiology, allowing students to practice their skills in a realistic setting. These mannequins can simulate various health conditions and scenarios, giving students the opportunity to learn how to respond to different situations and emergencies.
Nursing Computer Lab
A nursing computer lab is a specialized learning environment where nursing students can learn and practice using technology and software commonly used in healthcare settings. These labs are equipped with computers, software programs, and other technology tools that help nursing students develop their technical skills and knowledge.
This course is designed for students to develop a basic understanding of the use of computers and their applications in nursing. This computer lab is attached to the library and has facilities to access various journals through the Internet. In a nursing computer lab, students learn how to use electronic medical records (EMRs), healthcare databases, and clinical decision support systems. They also learn how to use various nursing software programs, such as nursing care plans and medication administration systems.
Nursing computer labs may also provide students with access to online resources, such as nursing journals, databases, and other educational materials. Students can use these resources to research and learn about various healthcare topics and stay up-to-date with current nursing practices. Nursing computer labs are an essential component of nursing education, as healthcare technology continues to advance, and nursing practice becomes increasingly reliant on technology. The skills and knowledge acquired in these labs prepare nursing students for the demands of the modern healthcare environment and help them become competent and safe healthcare professionals.